With the topnotch system of Retail Professional, we bring you the best and simplest way of managing your store with this straightforward back-office reporting solution!
Everything you need is right here, right at your fingertips. Monitoring your store status has never been this easy!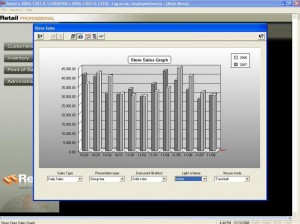 Compare your store sales from the last and current years.
Review your significant numbers a week at a time.
Full Features:
Bookkeeping
Track fastest, most accurate, and productive cashiers
Track deposits verifying they match sales
Track safe any time during the day
Monitor Cashiers
Perform Pickups and Loans from BackOffice
Sales
Product Movement for any item shown in any timeframe for weeks, months, or years
Analyze product sales for any reporting group, department, section, or vendor for any timeframe
Find best selling products and worst selling products
Find most profitable products
Analyze Ads
Find best selling products on Ad
Find most profitable products on Ad
Compare product movement before, during, and after the Ad
Determine Ad mark down
Analyze store sales for any timeframe
Graphically compare current /last year sales by week, month, or year
Hourly report shows busy and slow times of the day
Assign departments to an aggregate department for reporting purposes
Sales Reporting by Sales Person Number
Products
Schedule restricted day and hour sales time for an item
Unit Pricing
Split Package
Buy two get on free
Buy three for .99
Buy three for .99 limit quantity
Unlimited categorization of products
Report on any category
Report gross margin for any product category
Attach a picture to an item
Four tax rates or tax tables
Interface to third party label printing packages via export file
Track who made price changes and when they were made
Product Movement for any item shown in any timeframe for weeks, months, or years
Inventory reports Quantity on Hand
Group any items together regardless of department as a reporting group
Add, change, delete item groups
Unlimited item groups for reporting
Mass product changes – Pricing or attribute changes can be made on all items in a section, vendor, or product group
Analyze item sales by reporting group, department, section, or vendor
Automatic Tare
Items sold by any unit of measure
WIC eligibility flag
Search by warehouse item code
Link pictures to items and display at front-end or back office
Multiple UPCs/PLUs can address a single item
Support for like items
Change price information for all "like" items in a pricing product group
Change information for all items having the same item code
While in item maintenance, view current, future and past ads
Cost Calculator provides "what if" scenarios for calculating cost, price and target/gross margin of an item
Apply cost/pricing changes to item from the cost calculator
Rounding Table can be implemented to Update/apply price changes
Item added at the front-end are placed in a pending file for editing
§ View/Report History of Price Changes for a designated period
Administrative
Customize cash register
Unlimited tenders
Unlimited effective sale hour schedules
Four tax tables or tax rates
Configure receipt banners
Map POS activity to General Ledger accounts
Export data to accounting packages
Electronic journal searches for transaction or group of transactions for any time
Electronic coupons for a single customer or a group of customers
Unlimited discount types (item discount, percentage, days discount is available)